I'm not sure how they decide which search queries get a direct response, and which don't, but this was an interesting finding.
If I search for "php how long are sessions kept", I get a Stack Overflow response embedded in my search results.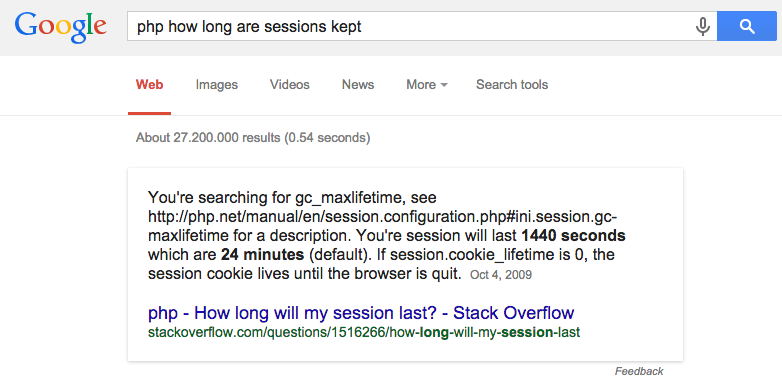 Some observations
Incognito mode doesn't show this, you have to be logged in with your Google account.
The quoted Stack Overflow response isn't the top/approved post. In fact, Google's excerpt combines 2 Stack Overflow comments into a single paragraph.
This is the first time I've seen this, but if it continues this would surely harm Stack Overflow's pageviews and ad revenue? Are they doing this to other sites as well?
Update 13:00h: this appears to be with "consent" of Stack Overflow
Enter schema.org, structured data
Google offers the "answer box" (the excerpt shown right under the search query) as an optional tool to sites. For instance, that particular post on Stack Overflow has structured data that allow Google to filter the results and embed them.
By embedding schema.org structured data, you basically give Google the freedom to do whatever it wants with your data.
Search engines are using on-page markup in a variety of ways—for example, Google uses it to create rich snippets in search results. Not every type of information in schema.org will be surfaced in search results but over time you can expect that more data will be used in more ways.

In addition, since the markup is publicly accessible from your web pages, other organizations may find interesting new ways to make use of it as well.
So it appears this is happening with Stack Overflow knowing about it and approving it, after all -- they implemented schema.org. But at the cost of pageviews?
Could this eventually lead to schema.org's open format being abandoned? I know it's contradictory to the "open data" movement but ...
<wishful-thinking> Maybe it'll lead to new business models, no longer based on pageviews and ad impressions. </wishful-thinking>