If you want to know more about why there are even donations or sponsorships, please read the introductory blogpost: Starting with sponsorships for this blog.
Advertising space
You can purchase advertising space on this blog to help promote your service or product.
First, some numbers and facts to help you decide:
Guaranteed 90.000 and 120.000 pageviews per month.
Peak traffic between 150.000 and 200.000 pageviews per month (depending on how well new posts are received/go viral).
A highly technical audience, mostly male, aged 20-45.
Readers have an interest in the web in general, technology, open source, security, programming, DevOps and systems administration (Linux).
Even for weeks where blog activity is slow, the existing posts attract a lot of visitors looking for specific solutions to technical issues.

Most of the readers are either a professional Linux sysadmin or (PHP) developer.
Ad positioning
You can purchase a banner slot at the top of every blogpost, which will stay there for as long as the sponsorship lasts. It looks like this. (see here for a live example)

It scales down gracefully for mobile clients, too.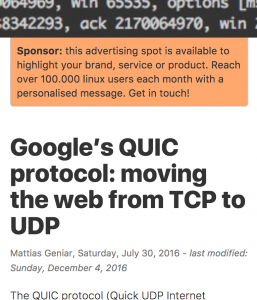 The format is very, very simple:
Your message, limited to 180 characters
A link to your website
Formatting allowed: bold, italic, font-awesome icons
What isn't allowed:
JavaScript
Tracking code / cookies
Custom CSS
Your message should be as clear and convincing as possible, to persuade visitors to click through. I can help make up a good copy if you prefer.
Getting started
If you're interested in reaching a large technical audience to advertise your service or product, contact me for more info on pricing.
Donations
There are two major ways to help support this blog and my online efforts: either a direct donation or a sponsorship agreement by which you can promote your brand or service on this blog.
The absolute easiest way is to make a PayPal donation at paypal.me/mattiasgeniar. If you want something in return for your donation, have a look at the sponsorship options above.