I want to try something new for this blog: guest writing.
If you have an idea for a Linux/Server/Dev guide or a strong (but interesting) opinion on technology and its implications, I would love to hear from you.
Why guest writing?
I write this blog in my own personal name. My name is even in the URL. Why allow others to write here?
My current motivation is two-fold:
I currently lack time to do a lot of blogging
I want to grow the audience of this blog
For me to achieve 2, I need 1.
What's in it for you?
Why would you guest-write anything for this blog? I'll start by saying the most important bit: there is no monetary compensation for your posts.
I can already hear every creative out there cringing, but I can offer you more exposure. 😬
Here's what you will get in return for your content:
Your articles will be posted here without any advertising from me (ie: no Oh Dear / DNS Spy banners at the top)
The focus is purely on your words & content
It will be marked with your name & avatar at the top (where you currently see my name)
It will contain a paragraph section at the bottom, where you can tell who you are & what you're working on
Your post will be shared by me on Twitter, Facebook & LinkedIn, with attribution to your social media accounts
If the content is interesting enough, I can share it via the cron.weekly newsletter (note: this is not sponsored content!)
It will be added to the RSS feeds for any subscriber to read
To look at this from another perspective: if you're currently publishing on Medium or any other blogging platform, you might as well post something here.
At least I can guarantee the privacy of the readers and won't annoy them with pop-up banners.
If you're new to blogging and want to start making a name for yourself, this could be an interesting opportunity for you. Through my network, I can at least bootstrap the initial views of the post and (hopefully) help get your name out there.
Individuals over Companies
Blogposts are published in your own, personal, name. You may work for a company, but I want to promote individuals - not companies.
I will curate these kind of guest posts so they do not come across as marketing posts for a product or service. I will highlight you as the person, not the commercial entity behind you.
What can you write about?
If you've been following this blog, you know most of my posts are deeply technical, how-to style guides. The more code or server configs to share, the better.
Strong opinions are also welcome. Why choose X over Y? What's the downside of doing something the A way instead of the B way? What did you learn along the way?
In terms of keywords: servers, coding, debugging, configs, CLI examples, tools, …
How to get started?
I have no idea if this idea is going to be successful. When I asked around on Twitter, the feedback was positive.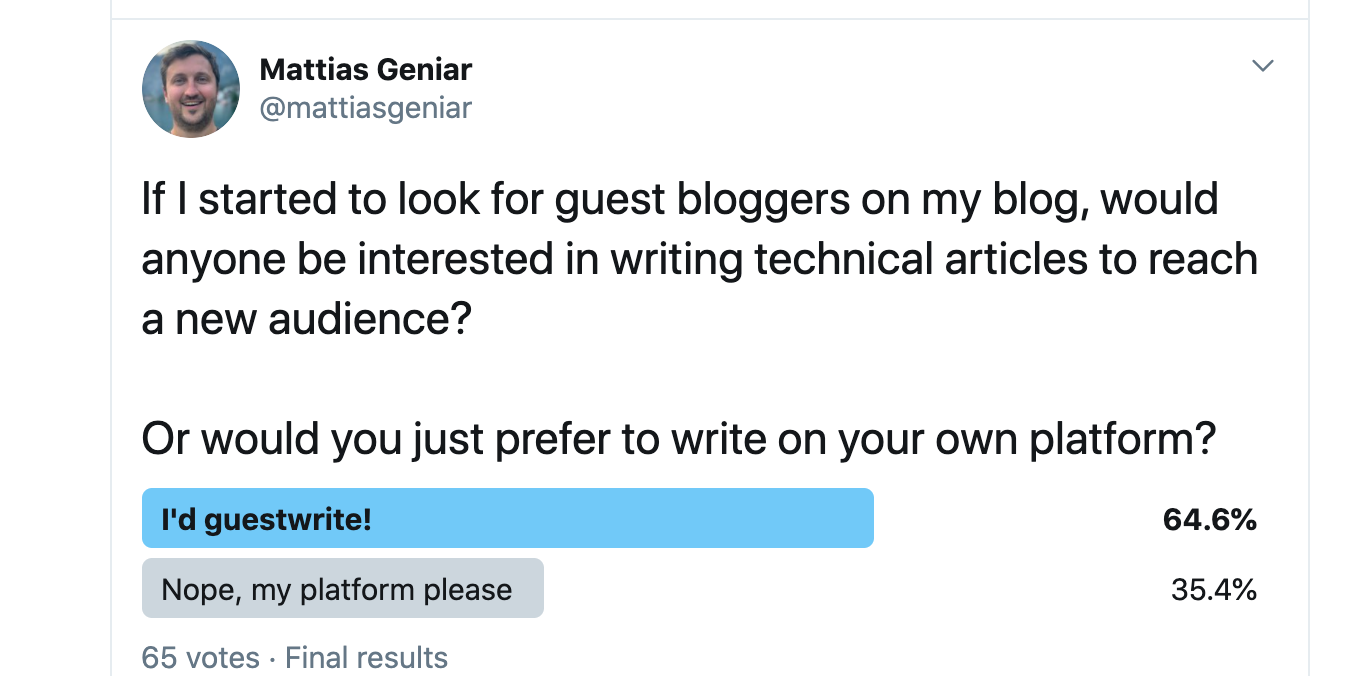 For now, I'm not automating any of this, just to see how it goes.
If you have an idea or a topic in mind: e-mail me at m@ttias.be or reach out via Twitter, my DMs are open and anyone can message me there.
If your topic or idea sounds interesting, I'll let you know and you can start writing.
Should there be lots of interest, I'll start a Github repository where you can add blogposts via a pull request, written in Markdown.
I have content, now what?
If it's your first-time guest posting on this blog, I would need a couple of extra things:
Your full name (or pseudonym, if you prefer to post anonymously)
Your avatar/profile picture
A short author bio (1 paragraph for the bottom of the post where you can link the projects or products you're working on)
Any images used in your blogpost, in HD quality (Retina)
Your article itself, of course (in Markdown, can be a private Github Gist)
I do stress that the format should be Markdown. Don't send me a Google Docs link or a PDF, I would have to convert that to Markdown myself and that's no fun.
So … who's going to be the first one? 🥳