A while back, Microsoft announced it would ship updates to both its RDP client & server components to resolve a critical security vulnerability. That rollout is now happening and many clients have received auto-updates for their client.
As a result, you might see this message/error when connecting to an unpatched Windows server: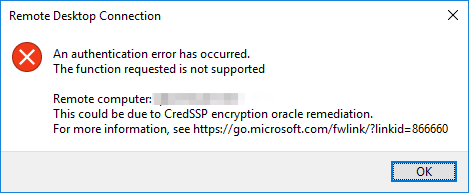 It refers to CredSSP updates for CVE-2018-0886, which further explains the vulnerability and why it's been patched now.
But here's the catch: if your client is updated but your server isn't (yet), you can no longer RDP to that machine. Here's a couple of fixes;
Find an old computer/RDP client to connect with
Get console access to the server to run the updates & reboot the machine
If your client has been updated, there's no way to connect to an unpatched Windows server via Remote Desktop anymore.