Why sponsor cron.weekly?
Every week I get to e-mail thousands of users and inform them on the latest news, tools or guides related to Linux, open-source & web development.
The audience is primarily a mix of systems administrators, web developers, CIO's and CTO's that want to stay informed in the ever-changing landscape of technology.
This gives you a unique ability to reach an otherwise very-hard-to-reach demographic. Every technologist lives online, but they all block ads. And they do so aggressively.
Newsletter advertising gives you a textual link that ad-blockers won't block. It'll be rendered in every e-mail client and online archive as-is.
Newsletter advertising vs. native web advertising
If you're currently running Google Ads or other advertisements, you know clickthrough and read-rates are terrible. Ad-blockers cause your advertisements to be missed by 50-75% of your target audience. This is especially worse in the tech industry.
If your link is included in the newsletter, you can be sure that everyone who opened our newsletter has read your message.
They might not click through if it isn't relevant to them, but the title will be read or glanced at by every reader.
For targeted advertising, newsletters make a lot more sense than Google Ads, DoubleClick, Facebook or Twitter ads.
It's all about the text
One piece of advice I've always remembered about writing a newsletter: "the best e-mail newsletter is the one where a user doesn't have to open a single link". In other words: the content should be in the newsletter, not in the external links. Those links are only there to support eager users wanting to read more.
This applies to your sponsored content as well: your content is in the newsletter, your title & paragraph matter 10x more than the link you're promoting.
Some numbers
Cron.weekly is sent every Sunday at 8AM (Europe/Brussels) to 12.300 subscribers (Updated August 2020).
The newsletter has an average open rate of 53%. Since privacy is one of the compelling features of cron.weekly, I don't track open & clickthrough rates anymore. These are the numbers when I did still track.

In reality, open rates are higher. Because of the Linux-oriented audience, many readers prefer the text view over the html view and will configure their e-mail clients to block tracking pixels by default.
I spend a considerable amount of time optimizing the text-only view, which will make it more likely your ads will be read and viewed by those users.
Every week, the online (web) version of each issue gets about 2.000 unique visitors.
What do you get out of the sponsorship?
In summary, if you choose to sponsor cron.weekly, you get:
Your product or service featured in the newsletter & site reaching thousands of users
A permanent back-link in the cron.weekly archives
In terms of SEO (Search Engine Optimization), getting backlinks from the ma.ttias.be can be valuable to increase your organic reach. This domain is currently ranked #51,933 by Alexa.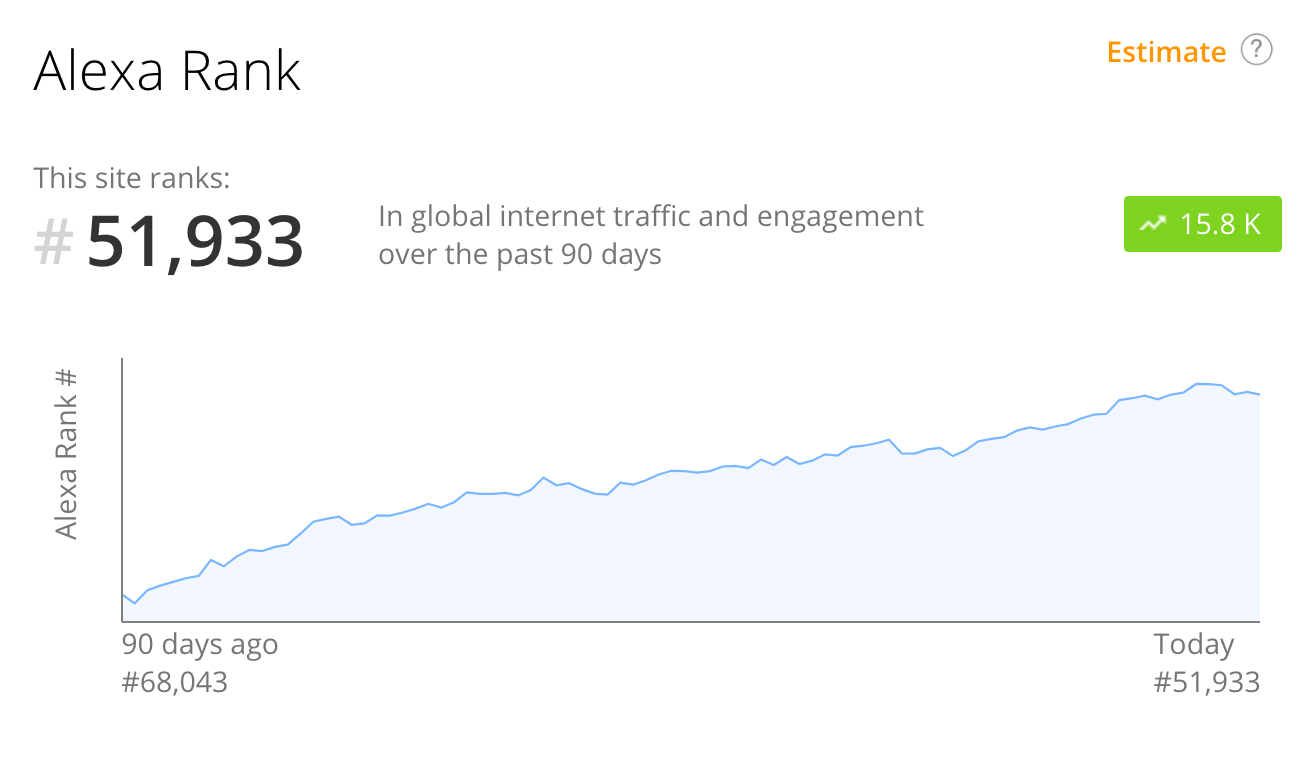 Traffic patterns indicate this is only going to increase, which will make the backlinks even more valuable.
Sponsor rates
The pricing below lets you reach thousands of tech-savvy users with a focus on Linux, open-source, PHP & web development.
This fee includes your sponsored content in the newsletter for 2 weeks in a row.
There are only 2 product or service advertising slots per newsletter, the available real estate is limited.
I'm interested, what's next?
Send me an e-mail at m@ttias.be. Once we reach an agreement, I would need:
The title of your advertisement
The link where it points to (can include Google Analytics UTM query parameters)
The paragraph text below the title
Requirements & example for a product/service
If you're curious how it looks, previous advertisements for Papertrail (issue #35) and Datadog (issue #52) can give a good idea.
The format is like this:
Datadog - Application monitoring done right

With Datadog, you can see all your data in one place. See Amazon stats on your servers, as well as detailed numbers of your PostgreSQL, Elasticsearch, Node & other applications. Sign up for a free 14- day trial. (Sponsored)
The limitations for the ad copy are:
Title: 45 characters (normal capitalization)
Paragraph: 300 characters
URL: no limits, you're free to choose the URL
My goal is to help you sell your product or service, if you are unsure how to create a good subject/paragraph I'll be more than happy to help you.
Requirements & example for a job posting
The format is like this:
Fullstack Engineer at Facebook

You'll be able to work on both the frontend and backend architecture for a moderately popular website. The tech stack includes Kubernetes, HA Redis, Ansible, PHP and clustered MySQL.

Location: Silicon Valley
The limitations for the ad copy are:
Title: 45 characters (normal capitalization), "Job Title at Company Name"
Paragraph: 300 characters, make sure to highlight the tech stack & responsibilities.
Location: The main city or country, the best job listings will be able to say "Remote" as the newsletter is read by users worldwide (~30% in the US).
URL: no limits, you're free to choose the URL
The title will link to your job posting, where you can include more details about the requirements & expectations.
There is no (Sponsored) badge after each listing, all job offers are listed in a separate section called Jobs and will be listed in the order they have confirmed their sponsorship (in other words: first come, first serve).
Billing details
The invoice will be sent from my parent company, Robot Studios IT Consultancy.
Payment can be made via wire transfer or online via credit card.