Once upon a time I wrote a weekly newsletter on Linux, open source & web development. Basically I wrote about the things that interested me.
Then I took a break. A long one.
But ever since I've quit my full-time day job I've been feeling more and more energized. And I have more time on my hands. And I still love to write.
The result? I'm bringing back cron.weekly! 🥳
An updated layout
I took the time to tweak both the HTML and the TEXT version of the e-mail, to be more aligned with the layout of this site. Here's an example where I took old content to generate the newsletter.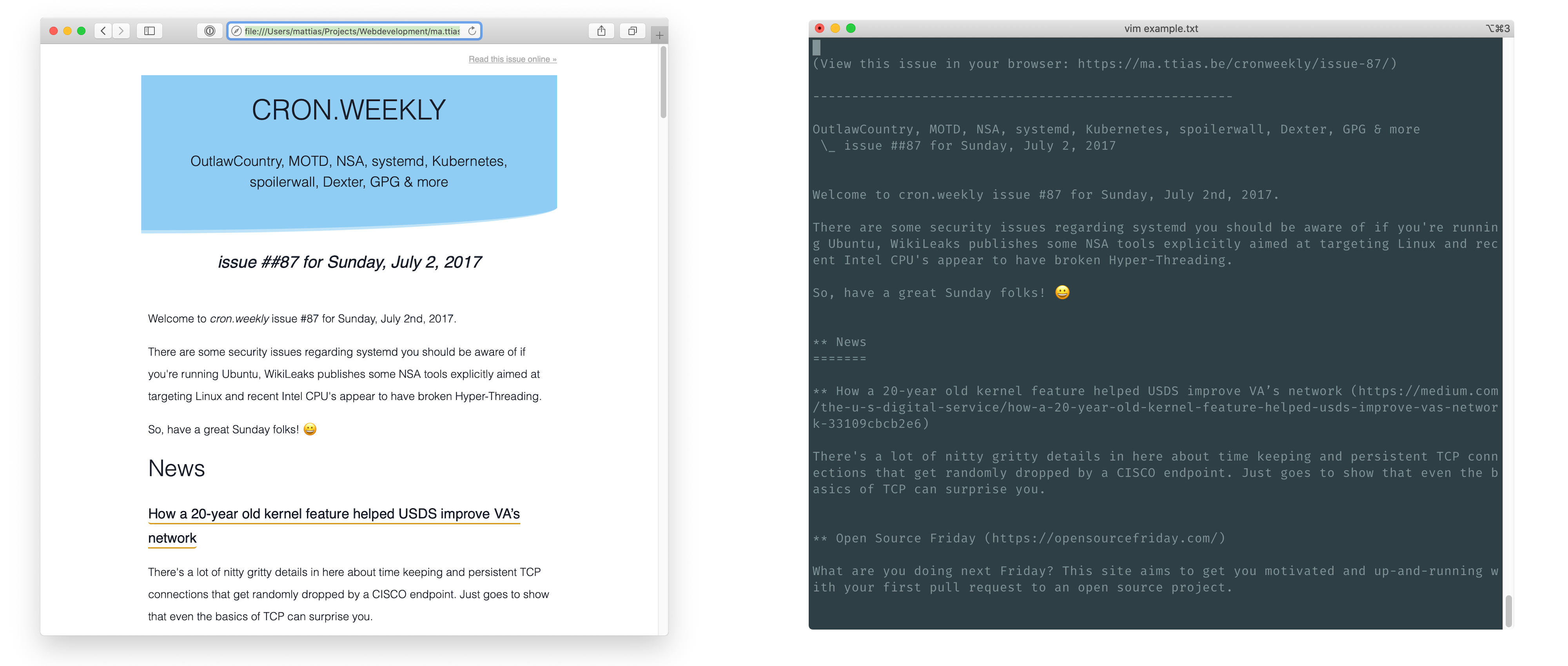 I've experimented with ASCII art and figlets for the TEXT version, but it's hard to get a consistent view across. It depends on the local font, the size, … so I'm just giving up.
How do I sign up?
There's a sign-up form at the bottom of every blogpost (like this one) and on the cron.weekly archive pages. And just for your convenience, there's a signup form here as well!
Ah it feels good to promote that once again.
I was once subscribed …
… then you should have received an e-mail from me last week, announcing the come-back. You're still subscribed unless you hit the unsubscribe-link in that one.
Nothing needs to be done from your end.
Note: if you didn't receive that e-mail, check your spam folder or just sign up again - to be sure.
Migrating all data to this site
I've moved all data from cronweekly.com to this site in the cron.weekly archives.
It's an effort to consolidate my many domains onto this one, together with the new design. All previous issues should redirect to the correct page on this site.
The idea remains the same, it's just the URL that has changed. And the colour-scheme.
No more open & link tracking
There's an about page on cron.weekly that confirms I do not want to track any kind of open or click-through rate. I want to focus on the content, not on what drives clicks and views.
In other words: the e-mail you receive from me will contain no personally identifiable information, other than an unsubscribe button at the bottom.
"I would like to support you, please consider Patreon"
From my announcement mailing last week I got several replies about wanting to help support cron.weekly through something like a Patreon or Github Sponsors. I very much appreciate the sentiment!
I'll take my time in the next few weeks to see how viable that is for small amounts (ie: 1eur/month) given they take a large chunk in transaction fees. If I find something I'm comfortable with, I'll make sure to announce it.
What you can do to help me
If you liked the previous newsletters I'd love it if you could promote it to your friends or on social media.
I'm only human and I have to admit: watching that subscriber count go up every week is a dopamine rush that's addictive. It's fun. It's exciting!
If you could help promote the newsletter in any way you can, that would be great!
"I wrote something that would be a good fit for your newsletter"
Great!
Let me know! Send me an e-mail via m@ttias.be, mention me on Twitter at @mattiasgeniar or tweet something with the tag #CronWeekly. Depending on the volume of feedback I might not reply to everything, but will read everything.
Definitely send me a link if you found something interesting!